The Columbus Museum of Art Docents volunteer their time and talent by leading tours and roaming in the galleries. We're grateful for their ongoing commitment to providing great experiences with great art, and we asked several current docents to share what CMA works make them think of gratitude this Thanksgiving.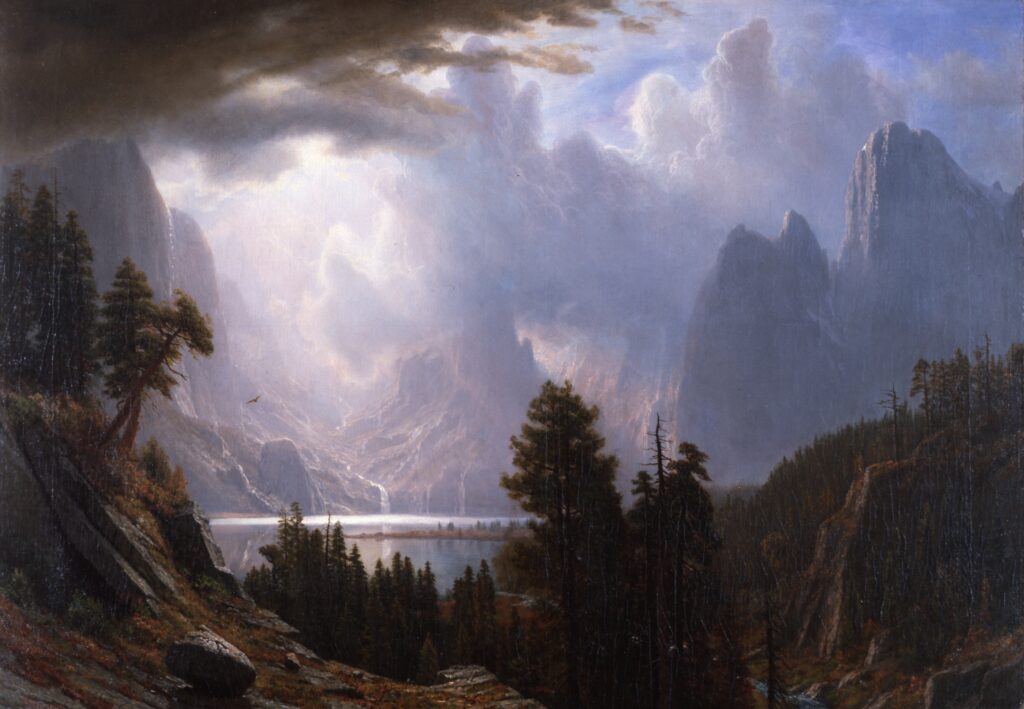 Albert Bierstadt, King Lake, California, c. 1879-1875
"America has bounty far beyond what the eye can see."
—Pat Filiatraut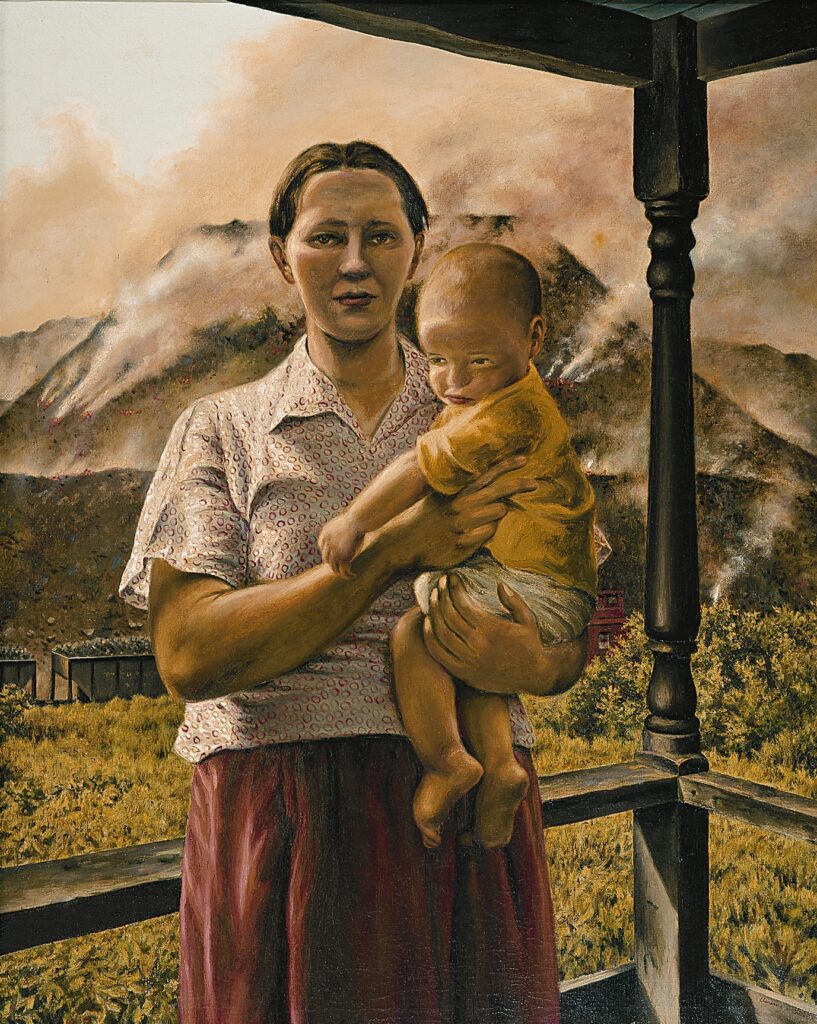 Clarence Holbrook Carter, Smoldering Fires, 1941
"I grew up beside the coal coke ovens from the Dupont factory in Belle, West Virginia. Every night as a child the flames danced through my bedroom window when the coke ovens opened, I felt I would be burned alive and the nightmares it triggered lasted many years. Later, I would describe it as living in Dante's Inferno. Also, the black coal dust was always in the air we breathed. You do not have to be a miner to have black lung disease.
My high school sweetheart's father was in the Governor's cabinet as WV State Coal Mine Chief. We travelled with him to Hollows and saw where the miners and their families lived in conditions we would never imagine for ourselves. But what I learned was to find the beauty in their culture of survival that was filled with love, always dignity, creativity for music, art, and poetry. They accepted their hardships through values passed from generation to generation. The family is everything. The daily threat of the whistle that alerts to trouble in the mines ever present. It is a war with nature every day.
The economies of the entire world rely on the sacrifices the coal workers and their families make. Because of their sacrifices we live privileged lives. Our prosperity is rooted in their living on the edge of disaster and fatal health issues. Now the world needs smoldering coal fires to cease and once again these fine people will be forced to sacrifice for the greater good for others. I ask you to feel gratitude with me for them.
I am so grateful that Portsmouth, Ohio artist Clarence Holbrook Carter acknowledged these noble human beings!"
—Carole Dale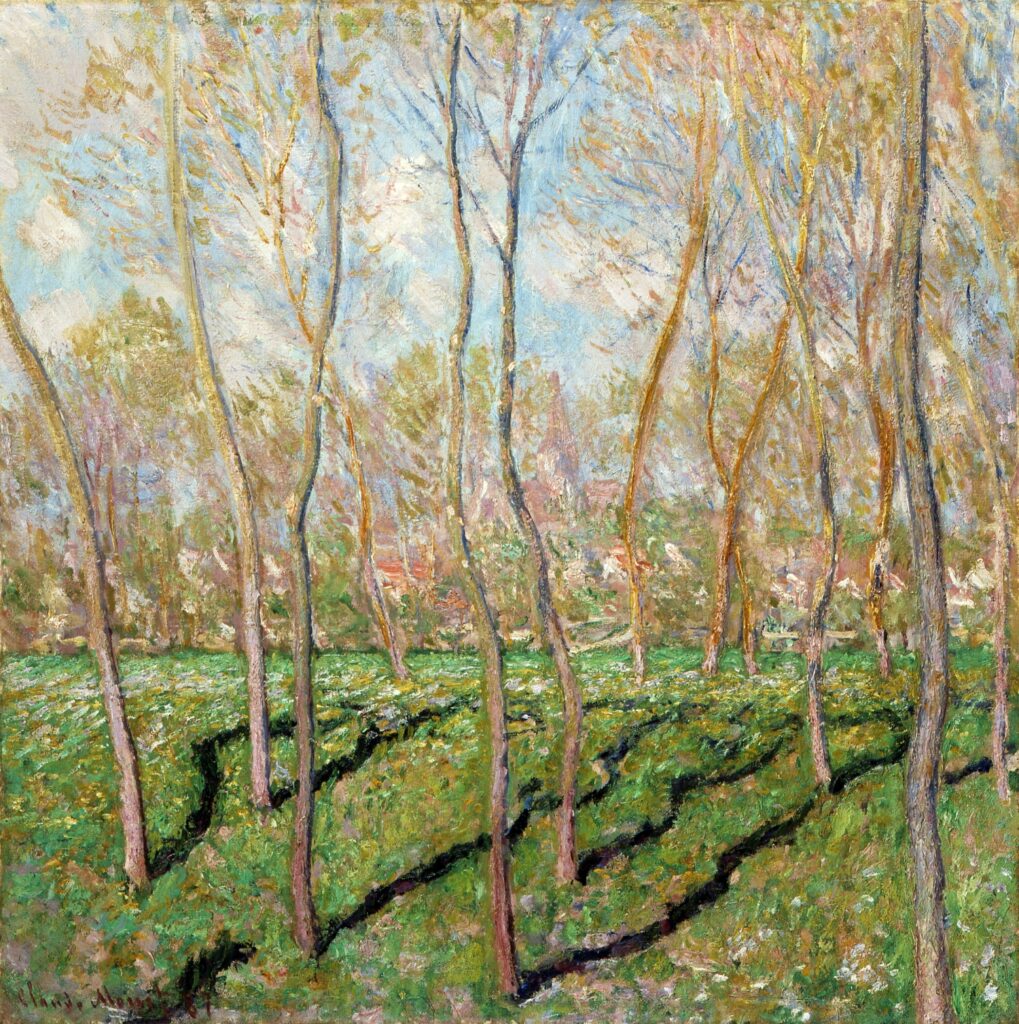 Claude Monet, View of Bennecourt, 1887
"The View of Bennecourt always makes me thankful for the beauty of nature and what a peaceful, soothing escape it is to imagine myself in a lovely French landscape."
—Donna Royalty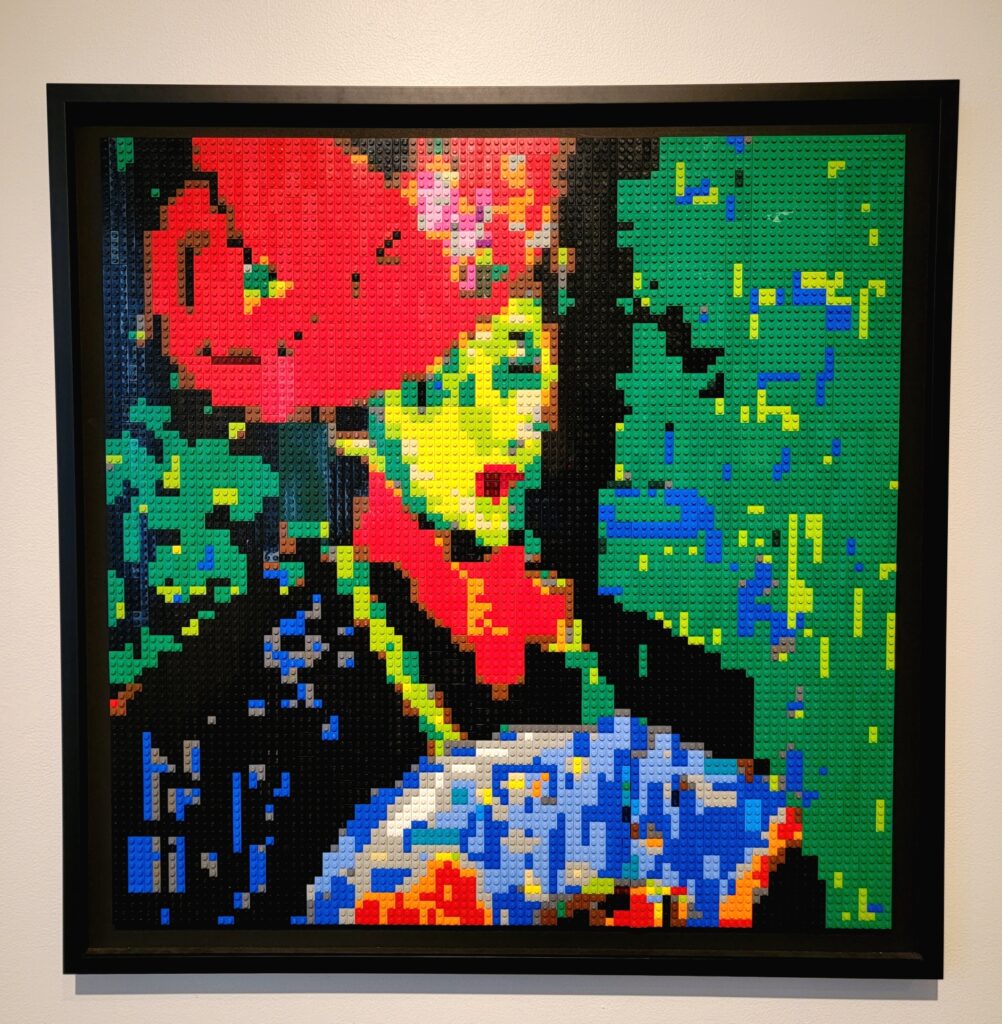 Columbus Museum of Art Docents, Schokko (After Schokko with Red Hat by Alexj von Jawlensky), 2015
"I'm grateful for the museum's volunteer docents who support our community by providing great experiences to all CMA's visitors and who lovingly re-imagined Schokko for the Lego exhibit."
—Sheryl Brown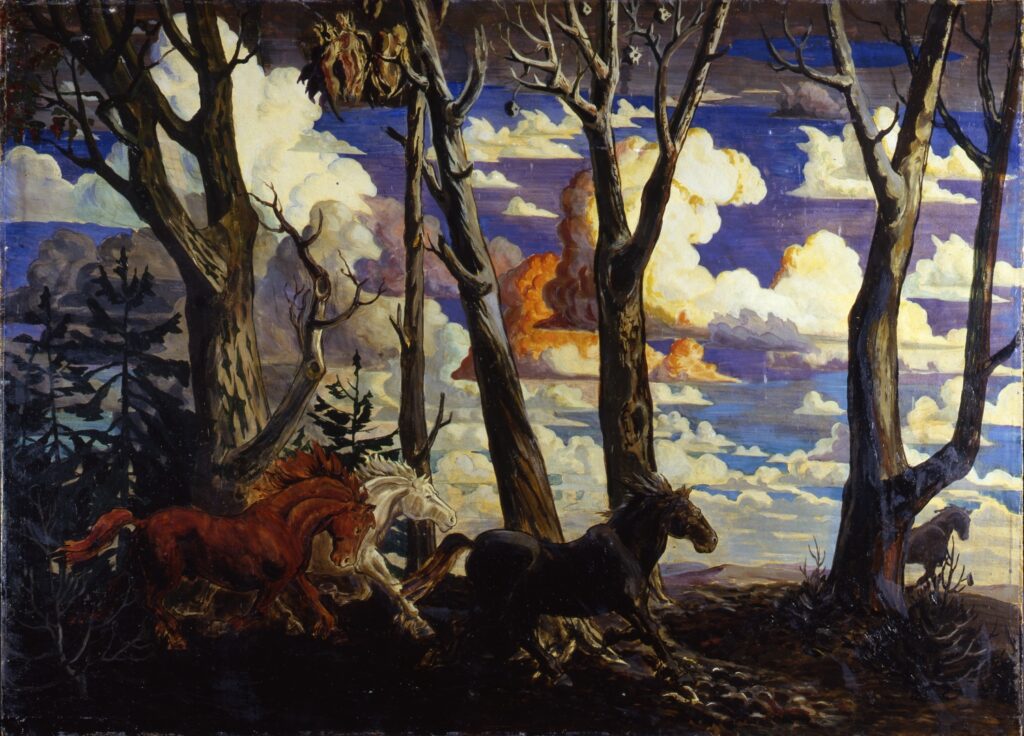 Charles Burchfield, October, 1922-24
"Ever since we started having October skies I've been meaning to look at Burchfield's October. Your email gave me an opportunity to put into words why that happens every October. Usually I just wordlessly steep myself in the painting or a reproduction of it. That makes me grateful the seasons are changing, and grateful for Burchfield's skill in making flesh the wildness of the horses as they dash through the woods on their way to the hardships of living outside in winter. 
As a kid I rode my cousin's horses on rare occasions. And it felt like this!  I had no training to ride, but from the first time I got on a horse at age 7 I just wanted to go fast. I'd urge the horse to go ever faster even though my feet couldn't reach the stirrups.  So this painting puts me in those reckless kid moments, grinning and feeling like a wild horse myself under an October sky. Thank you Charles Burchfield."
—Becky Lowther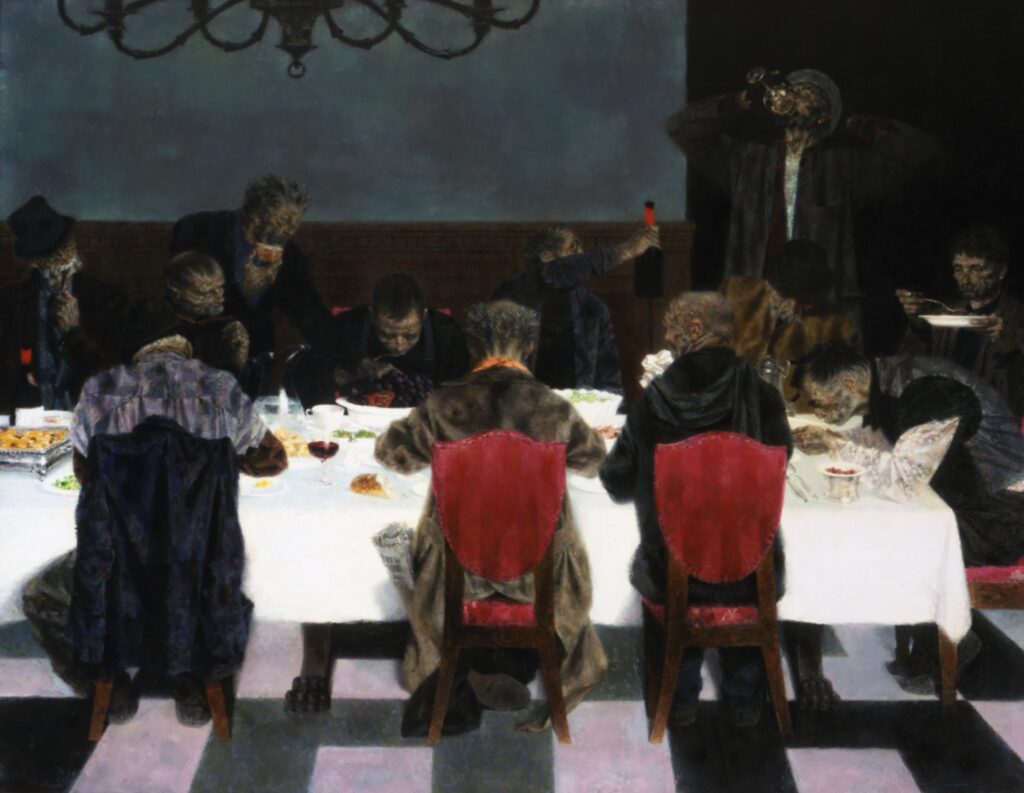 Joseph Hirsch, Supper, 1963-64
"This is a "Last Supper" styled painting with down-and-out-looking types eating dinner at a table set with fine glassware and linens.
What I always noticed about it was their mannerly behavior, as though they appreciated the sumptuous food – a hint to us, maybe, that they also deserve it."
—Mary Gahbauer